UW+Amazon Science Hub
July 10, 2023
UW + Amazon Science Hub Career Panel Lunch & Learn
UW + Amazon Science is excited to host an on-campus lunch & learn session for graduate students to hear from a panel of Amazon Scientists discuss their career journeys as well as possible career pathways at Amazon. UW + Amazon Science Hub Career Panel Lunch & Learn Date: Monday, October 9thTime: 12:30pmLocation: Zillow Commons (CSE2…
---
UW + Amazon Science Hub Robotics Roundtable and Research Showcase
UW + Amazon Science Hub invites PIs, fellows, and Amazon scientists to participate in a showcase and roundtable of the work accomplished and planned for the Science Hub. The event will be held in-person at the Burke Museum on Friday, September 22 with registration beginning at 8:30am (welcome remarks begin at 9:00am). Event Program 8:30AM…
---
June 29, 2023
UW + Amazon Science Hub announces 2023-24 Amazon Fellows; Faculty Research Awards
The UW + Amazon Science Hub, established in 2022 to advance innovation in core robotics, artificial intelligence technologies, and their applications, has awarded Amazon Fellowships to UW Engineering doctoral students Taewan Kim and Chuning Zhu for 2023-24. The Science Hub also announced support for five new research projects led by seven faculty from departments across the UW College of Engineering. Each project receives up to $100,000 in support from Amazon.
---
March 31, 2023
Statistical Machine Learning & Causal Inference Roundtable
UW + Amazon Science Hub invites UW faculty, UW graduate students, and Amazon scientists to participate in a roundtable on statistical machine learning and causal inference. This event will include short research talks, networking, and opportunities to build and deepen connections between UW and Amazon. The event will be held in-person on UW's Seattle campus…
---
November 2, 2022
UW + Amazon Science Hub welcomes inaugural fellows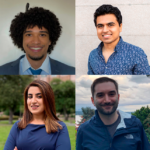 The UW + Amazon Science Hub is thrilled to welcome our first ever cohort of Amazon Fellows. The fellows, who are all UW doctoral students, will receive three quarters of funding to pursue independent research projects in robotics and adjacent areas in AI. They will also have an opportunity to take part in paid summer internships at Amazon where they can work directly with Amazon researchers to gain valuable industry insight and experience. Learn more about the fellows' backgrounds and projects.
---
October 19, 2022
Dr. Anca Dragan Lytle and Colloquium Lectures
Dr. Anca Dragan, Professor of Electrical Engineering and Computer Sciences at UC Berkeley, will be presenting 2 exciting lectures at the University of Washington on November 14th and November 15th! Both lectures are available to the public and we encourage everyone interested to attend! Information regarding the lectures below. Lytle Lecture "Robotics Algorithms that Take…
---
October 13, 2022
Amazon Prime Video Call for Proposals – Fall 2022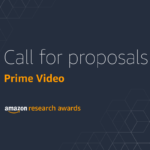 Amazon Prime Video has a number of open calls under the fall 2022 call for proposals. Prime video works to solve a broad range of cutting-edge technical problems. Prime video welcomes proposals spread across three research areas: 1) Anomaly Direction and Insights, 2) Personalization and Discovery, and 3) Video Quality Analysis. The deadline for submissions…
---
September 23, 2022
Amazon Science Graduate Student Networking Event @ UW
UW + Amazon Science Hub and Amazon Science is hosting an on-campus lunch & learn session for graduate students to learn about Amazon Science Internships and the Amazon Postdoctoral Science Program. Enjoy lunch and networking with Amazon scientists as they share about the exciting projects they're working on. You will also learn about Amazon Science…
---
September 21, 2022
Amazon Research Awards 2022 Call for Proposals
The Amazon Research Awards has announced the fall 2022 call for proposals which covers four research areas: AWS AI, AWS Automated Reasoning, Prime Video, and Sustainability. This edition of the call for proposals reflects Amazon's ongoing efforts to collaborate with researchers in a variety of areas, and provides grant recipients unrestricted funds and AWS promotional…
---
August 10, 2022
Amazon and University of Washington announce inaugural Science Hub faculty research awards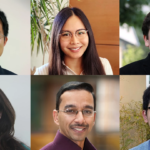 The UW + Amazon Science Hub, founded in February 2022 and housed in the University of Washington College of Engineering, has announced the recipients of its inaugural set of faculty research awards to advance artificial intelligence (AI) and robotics.
---
Next page